Orakei residents are at loggerheads over cyclists running red lights at a busy intersection.
Mortgage advisor Sarah Bloxham was shocked when a group of 15 cyclists, which included young riders, ran the lights at the dangerous Long Drive, St Heliers Bay Road and Ashby Ave intersection.
Ms Bloxham said she felt compelled to post about the incident on Neighbourly.com, as she was concerned for the safety of those in the group.
"I don't want to see blood and in this situation it was blatantly obvious that there could've been blood," Ms Bloxham said.
Her post ignited a heated debate between cyclists and non-cyclists, garnering 82 comments such as 'observed them doing this for years', 'I 'run' red lights, I do this for MY safety', and 'drivers are impatient and disrespectful'.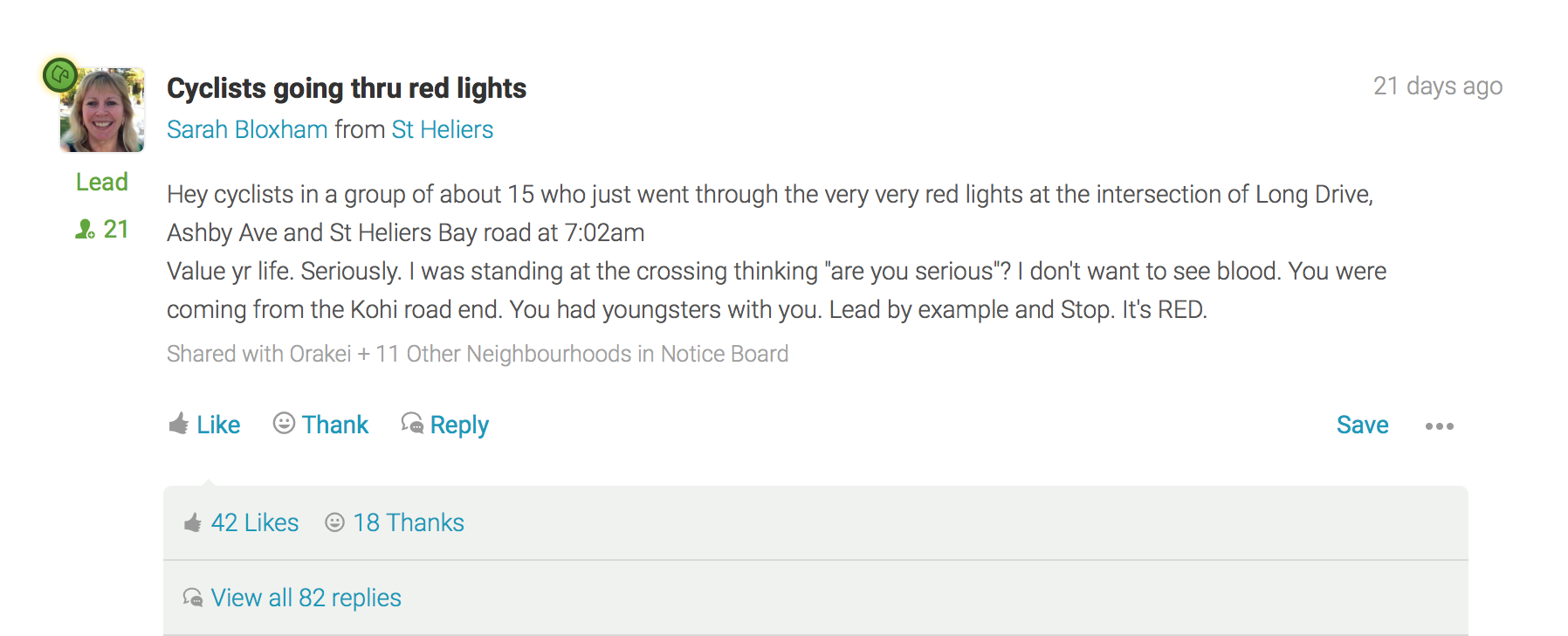 Sarah Bloxham's post on Neighbourly.com garnered a large response from both cyclists and non-cyclists.
"I know a lot of people have come back with 'a lot of drivers go through red lights', but all my statement said was that you should lead by example for young people," Ms Bloxham said.
"If you were driving in a car with a learner driver, you would be teaching them the road rules and the same should go for adults teaching young teenagers how to cycle in a group."
Long term cycling commuter, Reuben Mitchell, also posted in the online discussion and told Te Waha Nui he constantly encounters aggressive drivers when cycling to work. However, he can empathise with non-cyclists' views on cyclists breaking road rules.
"There have been many instances where drivers are not impressed that you are there and there are a lot of things that can go wrong when you're riding on the main road," Mr Mitchell said.
"However, I can understand non-cyclists getting annoyed at the 'lycra-clad' groups and I don't agree with those who blatantly break road rules.
"If an adult cyclist chooses to ride on the road, they should obey all road rules and therefore be treated and respected as another vehicle by other motorists."
Spokesperson for Cycling Action Network, Patrick Morgan, said the group encourages cyclists to abide by the road rules and respect other motorists.
"Our advice for road users, whether you're on a bike or in a car, is number one, follow the rules, and number two, don't be a dick," said Mr Morgan.
Mr Morgan said the organisation ran a campaign called Stop At Red, which aimed to reduce accidents and improve the public's attitudes towards cyclists.
"It's illegal to run a red light whether you're in a bike or a car, and unfortunately if a few people break the rules it makes everyone look bad," Mr Morgan said.
"One of our sayings is that there are idiots on bikes, there are idiots in cars, and the main problem is idiots."
According to the New Zealand Transport Agency, cyclists must follow the same road rules as motor vehicles when at an intersection.